SIERRA CAPRI [ON MY BLOCK]
INTERVIEW BY BY ANNA BETTINA ESGUERRA
On her Golden Globes acceptance speech, Gina Rodriguez said of her seminal show Jane the Virgin: "It represents a culture that wants to see themselves as heroes." Two years later, another coming-of-age series featuring a predominantly Latinx community in Los Angeles started airing on Netflix. Entitled On My Block, the show proves that we are entering a cultural moment wherein kids of different racial backgrounds and sexual orientations can finally see themselves as heroes. At the center of this television landmark is 19-year-old Sierra Capri, who talks to ABookOf about what it's like to work on this new series, how similar she is to her character Monse, and why she thinks it's important to tell stories.
Where are you from, Sierra?
I was born in Baltimore, MD and moved to Georgia when I was about 12.
What made you decide to go into acting?
It's always been something I was passionate about. I come from a family dedicated to the arts. My mom was a dancer and my dad was a musician so I don't think they were too surprised to hear what my goals were.
How did you land the role of Monse?
I was headed into my last year of college in Savannah when I saw the casting for On My Block online. They were accepting submissions so I asked my self-tape coach for her help. I drove four hours to her house in Atlanta, got it done, and then played the waiting game. Shortly after, the casting directors and producers wanted to fly me to LA for a chemistry test. Needless to say it has been a whirlwind ever since and I'm extremely blessed.
On My Block is described as a coming-of-age story. What would you say is your own coming-of-age story?
I was very shy and definitely a mama's girl. I moved from the city to the country at a young age and had to adjust, which wasn't easy at first. The north and south differentiate in more ways than most realize, even in today's society. I was leaving my friends, father, brothers, and grandparents behind. However, with the right people surrounding me and my faith in God's plan, I knew everything happened for a reason. Now I look back and wouldn't change a thing because it made me stronger.
What separates On My Block apart from other teen shows?
I don't think there is anything like it right now on any media platform. It's a show to learn from as well as laugh along to. It touches on so many subjects and issues that have yet to be resolved. I think that's why so many people can relate to it because it's a show for all ages and all ethnicities. So many people who felt like they didn't have a voice before finally do. I'm in constant awe of the support people give the show. It's a beautiful thing to witness.
How similar are you to your character Monse?
We're similar when it comes to loyalty and independence. Similar to Monse, if I consider someone a friend you better believe I take it very seriously and will be there through thick and thin. Also, I've never been one to stick to the status quo. I rarely felt the need to follow the crowd or try to fit in. Whoever gravitated towards me, that's who I kept around.
You and your castmates have such great chemistry! What's your relationship like off-camera?
My relationship with the cast off-screen is even better than on-screen. We had so many laughs filming Season 1 it would be hard to keep it together during scenes. We're all a family and I couldn't have asked for a greater team to be a part of. Everyone brings something unique to the table and they are all so talented. We always joke and say maybe there should be an On My Block after show.
What do you think is the ultimate goal of telling stories?
Telling stories is important because [stories] can inspire and influence future generations. Telling stories through film impacts people in ways simply reading a story wouldn't. It helps one visualize where they want to be, what they want to feel, and how they should go about doing it. After all, films didn't start with sound.
What kind of films do you want to make?
I am open to all possibilities. I would love to do a movie in every genre if I could. Above anything I don't want to be put in a box.
Who would you say is your biggest role model?
My biggest role model is my mother. She has always been my biggest supporter, a best friend, an influencer, and an enforcer all in one.
If you were a book, what type of book would you be and why?
If I were a book I would definitely be a Nicholas Sparks novel. Similar to his books, I'm mysterious but also a romantic.
What charity is closest to your heart?
Any charity dedicated to children. I'm currently supporting children's hospital in their hopes to raise funds for their CHLA center. I love kids and would love to be a part [of] making a difference in their lives even if it's in one small aspect or another.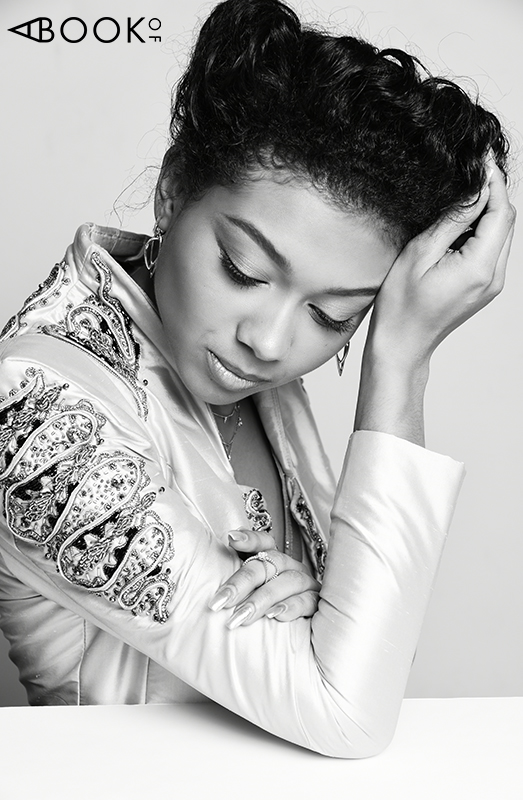 Catch Sierra as Monse from On My Block only on Netflix!