TIMOTHY GRANADEROS [13 REASONS WHY]
INTERVIEW BY MICHAEL DARLING
Timothy Granaderos has made a splash in Netflix's 13 Reasons Why as the villainous Liberty High School bully Montgomery de la Cruz. In the recently released second season, Monty has raised his villainy to new levels, terrorizing witnesses in the trial that drives the season's storyline. We sat down with Timothy to discuss 13 Reasons Why's fans and how he comes down from playing Monty.
Where are you from and where are you based now?
I'm from Kalamazoo, Michigan; more specifically a town called Portage. Now I'm located in Los Angeles.
How did you get into acting?
My older sister is a make-up artist and she got me a job working as a production assistant on a reality show and that's what got me into the industry. I really took an interest into acting because of that. I started modeling and doing commercial acting. That's how it all happened a bit.
How do you prepare to play the voice of a contemporary teen?
It's pretty easy because we were all teens once, so you just draw back on these emotions and memories you had back in high school. It's easier to tap into than you realize.
What drew you to 13 Reasons Why?
Really it was just the story. I knew that it was a popular young adult book and it was very difficult, heavy subject matter. I was just attracted to telling a story that could start conversations. Then I read the book and it's a very good read, lots of deep characters.
Do you prefer playing heroes, villains or somewhere in between?
Right now the villain thing appears to be working for me, so I'm just going to ride that wave. But I'd like to play the hero, so I'd have to play Superman after this in order to get my hero cred back.
There's been a lot of talk about the violent bathroom scene at the end of season two. How do you and your castmates prepare for a scene like that and how do you cool down after such an intense scene?
Going into the scene you do all the preparation and research you need to do in order to feel comfortable on the day when you're shooting. Then you put your trust into the crew, the writers, the other actors and yourself and then hope it goes the way you feel it should go. Afterwards, you work with the crew and actors to get yourself out of it. Luckily, we're all so close that it feels like we're all on the same page and that we're in this together. You don't feel like you're spiraling into this darkness; it's hugs and pizza after a scene like that.
That's good to hear.
Yeah, that's how it should be. Pizza makes everything better.
I'm glad it's such a supportive set. Speaking of support, have you heard from fans whose lives have been impacted by 13 Reasons Why?
People have reached out to say how much the show has changed their perspective and helped them through tough times which I think is really cool. One of the things we try and do with a show like this is to speak to an audience that needs to be spoken to, or just get conversations started. So, a lot of people have reached out with their stories and their experiences and it really means a lot.
How do you think movements like #metoo are holding abusive men accountable and helping men think about their own actions and emotions?
I think it's making people realize their actions might be affecting people in a bad way. It's putting your actions under a microscope so you think about what you're doing before you do it. Even me, I'm aware of how I treat people, but even then a movement like #metoo has forced me to think about what I'm doing and saying around people and I feel that's the most important thing.
If you could be a book what book would you be?
I'd be The Giver. Remember The Giver? I'm just hypersensitive to other people's feelings and that book just encapsulated this idea that you could take someone else's pain and I think if more people tried to do that the world would be a better place.
Speaking of giving, what's a charity or cause that's good to your heart?
Anything that's close to nature preservation, really. I'm a big outdoors guy and there are so many across the board. Patagonia does a lot of awesome stuff and I think it's important right now, especially with the closing of all these nature monuments to preserve those. I know for me it's very important to be out and be with the trees.
In that case you could be The Giver or The Lorax?
Haha. Exactly, I love that book!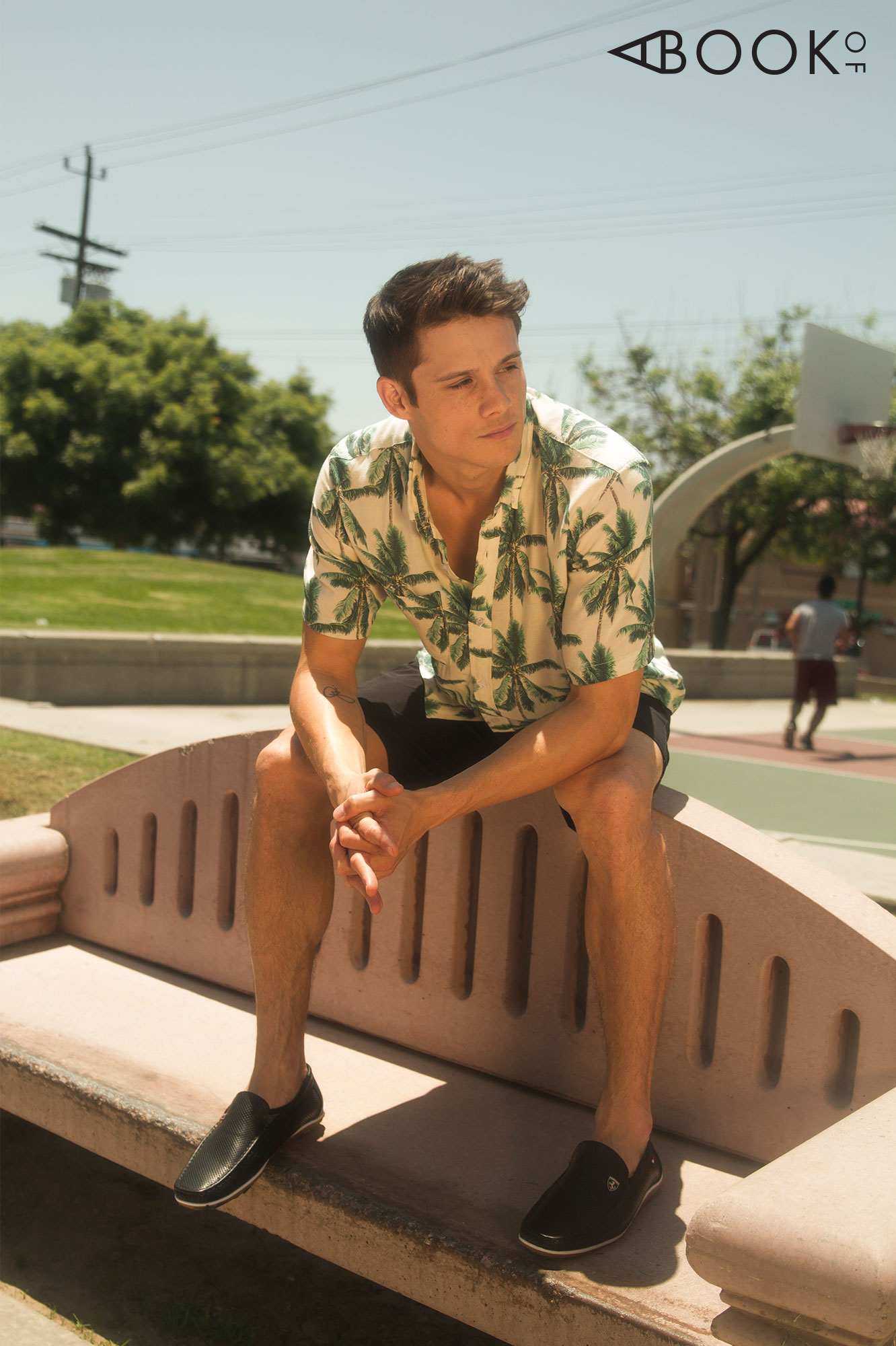 Catch Timothy Granaderos as Montgomery in 13 Reasons Why only on Netflix!